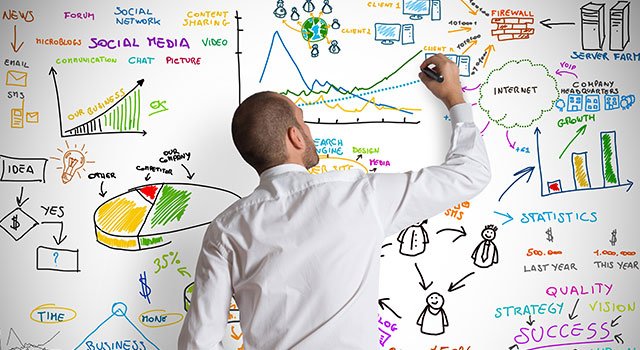 We use Google to generate more than half of our in-house leads – Want to know why? Leads generated from Google are motivated, responsive, and highly targeted.
Google AdWords isn't a new marketing medium, but it isn't mainstream. People assume it's too expensive for their small business or that they need an IT degree to figure it out. If you know anything about Google AdWords, then you know that isn't the case. It is a highly effective marketing medium that can help you grow your audience while spreading brand awareness.
There are tons of free resources available online to help you build and utilize an AdWords campaign, even if you've never done it before. However, a more critical focus may be why you should use Google AdWords. Does it make good business "cents?" The answer is yes, in more ways than one.
Most of Google's annual profit comes from its AdWords revenues, and they make big profits. When it's run efficiently, a Google AdWords campaign will deliver a measurable return on your investment. The best part is that virtually any size business in almost any industry can use this particular medium. Of course, pay-per-click isn't for everyone, but it can be a beneficial part of a well-balanced marketing pool. So, here are a few reasons that Google AdWords works so well for so many businesses.
1. Fast Results
Google AdWords is particularly attractive to small and new businesses, especially if they don't have an ironclad SEO campaign. It offers results that you can see almost immediately. It doesn't take long after launch to start seeing clicks and impressions on your site because you get increased exposure.
Increase conversions on your sales leads by following these 9 simple steps!
While SEO is vital to the success of your business, it takes time to build credibility in the industry. Competition is fierce, and many companies need to see a return sooner rather than later. They don't have the financial stability to wait out their SEO campaign. The most effective approach is to combine Google AdWords with your SEO campaign.
Many resources are available to do this successfully without breaking the bank, and Google often runs specials. For instance, new businesses that sign up by a specific date get one free month of advertising. That can be quite attractive for a small business on a budget.
2. Straightforward
Google AdWords may seem foreign at first, but it's not complicated. Since Google generates most of its profits through AdWords revenues, it only makes sense that it should be easy to use, and it genuinely is. Google offers plenty of direction and support because they want happy customers. Happy customers become repeat customers who generate more profits.
SEO can be overwhelming, especially at first. The constant need to produce fresh material and build links to generate organic traffic doesn't disappear; it grows with your website. SEO is continually evolving with the digital marketplace and the demands of end users. Although we use organic SEO to generate leads, we focus on paid traffic for tough verticals like debt settlement leads and IRS tax debt leads. Every time you turn around, you have to contend with a new algorithm. AdWords is different. There is one set of easy-to-follow instructions without conflicting information.
3. Scalable and Measurable
Google AdWords is highly scalable, so the more you spend on advertising, the higher your return will be. Of course, you need to target the correct keywords for your audience, but it won't take an entire marketing team working around the clock to get leads for your business. If you are serious about your marketing, you are analyzing all the metrics behind the mayhem.
You'll see that Google AdWords is more transparent and measurable than other marketing channels. All else being equal, a Google AdWords campaign provides a lot more quantifiable information than you would get a social media marketing campaign. With many metrics that let you see what's working and what's not, you can adjust your plan accordingly to market effectively.
4. Specific
Google AdWords marketing is specific; every part has a purpose, and you are not left holding your breath. You can customize your ads to target specific long-tail keyword phrases that aren't as competitive as general keywords. When you can define your audience by location, time of day, device, language, and more, you can market only to people who may have a genuine interest in your particular product or service.
You can use ad extensions to display specific information about your business or a product you offer, or you can even initiate a chat directly from the SERP. All these different capabilities in your marketing campaign allow you to grow your audience and funnel convertible leads at a rate not available on other marketing mediums.
5. More Convertible Traffic
Organic search is excellent, and it's a necessary part of your marketing campaign. However, research suggests that paid search converts at almost double the rate or more than organic search traffic. If you know a channel will send you twice the convertible traffic, you'd be crazy not to use it.
Disability Leads / SSDI Leads from our search campaigns currently yield a closing rate above 20%. Using highly targeted campaign targeting, we can maintain these numbers for our SSDI / Disability Advocates.
Of course, businesses do vary, and results may depend on the nature of your particular industry. Most importantly, AdWords traffic is highly convertible because of its hyper-focus. Furthermore, paid search ad clicks are more likely to be of commercial intent, which is good news for businesses.
6. Remarketing Potential
Remarketing is an option to target people who have shown an interest in your site previously but left it without completing the conversion process or filling out any forms. A cookie embedded in your website follows your targeted audience through the rest of their browsing. It displays ads from your business based on their browsing history on your site, which helps keep your business at the forefront of their thoughts. It is a fantastic way to engage with people who don't like to make split-second decisions. Perhaps they were just pulled away for some reason and hadn't had the chance to come back to your site yet. Your remarketing ad can be a friendly reminder, and it will capture a lot of business. Remarketing ads have an incredibly high return on investment compared to other marketing mediums. Currently, we run highly successful remarketing campaigns for our bankruptcy leads.
7. Competitive
Because competition is fierce, you should do a keyword search in your industry. You'll likely find one of your competitors in the paid search results. While this is not necessarily a bad thing, it does mean they are getting a lot more business than you. You know the old saying about running with the big dogs, don't you?
If you do the query and see your competitor, then you are missing out on a lot of business; if you don't see them, then you are probably missing out on more business than you thought. If your business genuinely provides value, then paid search can work for you.
Google AdWords can be a fantastic marketing medium for almost any business. The brand awareness and convertible leads alone are reason enough to try it. However, the metrics and insight about your audience are valuable information you can apply to other aspects of your business. The return on investment for Google AdWords will keep increasing because that's the type of information you can't buy.